Bank of America App is the official mobile banking app for U.S. based accounts. Bank of America is one of those big banks in the United States of America. Having the Bank of America app as a customer of the bank on your mobile device will save you the stress of queuing up for banking transactions in the banking hall and others.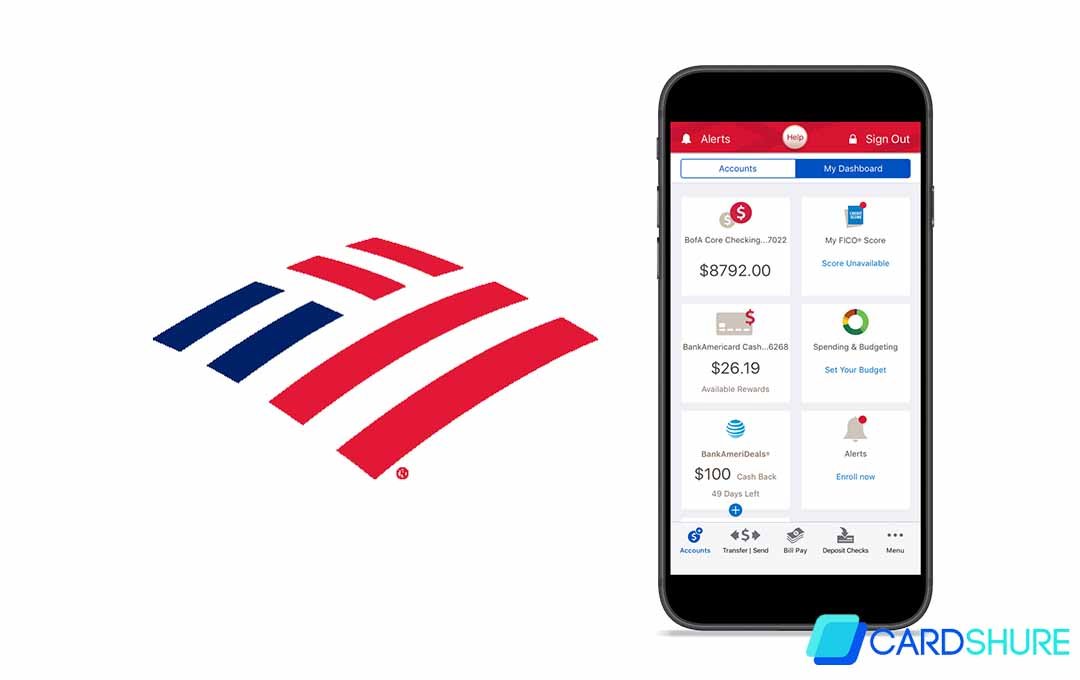 However, all users and bank customers are entitled to have a mobile app. The Bank of America app is safe and secure. All personal banking details are not stored on the phone but are securely stored with the app. Keep reading to see more information on the Bank of America App.
Bank of America App
Bank of America mobile banking app is very convenient and secure for transactions. It can be used to monitor your account, deposit checks, and track, and access your rewards, deals, and benefits. Also, used for bill payments, sending and receiving money, it's so fast and safe. You get virtual financial assistance each day 24/7.
The Bank of America has been in existence for over 200 years. The bank has been offering professional banking services to its customers all these years. Their services include corporate banking, management, and investment banking.
The Bank of America covers governmental financial services, individuals, corporate bodies, and financial institutions across the world. The bank is operating in the 50 states of America and in over 30 countries of the world.
Features Of The Bank Of America App
The bank offers various services which can also be done effectively using the banking mobile app. Here are the features of the app
Transfer Money – Users can securely send and receive money with Zelle® using a U.S. mobile number or email address. You can transfer funds between your account in Bank of America.
Check deposit – You can snap photos of checks to deposit them. And get to see instant processing deposits in your account.
You can use the virtual financial assistance 'Erica' – You can ask Erica for assistance, such as finding transactions, paying bills, and more. Get valuable alerts, and gain helpful insights and financial guides.
Manage Account – You can activate or replace debit and credit cards. Review activity in checking, savings, and credit card accounts. View mortgage, auto loan, and other account balances. Order checks and set alerts for important account information.
Users can pay bills, schedule, edit, and cancel payments. Pay eBills, add and edit payees
Get 24 /7 customer service, and speak with a representative for assistance.
Security is set up with the bank app such as fingerprint sign-in. Users received alerts on any fraudulent activities suspected on their card
The above-mentioned features are the amazing features of the Bank of America mobile app.
Bank of America App Download
To begin using the Bank of America mobile banking app you need to download the mobile app to your mobile device. This is dependent on the device you are using iOS or Android. Here are steps to download the app into your Android phone
Using any browser of choice
If you are using an Android device, simply type the Bank of America app and you will see Google Play Store.
On the Google Play Store platform, just type in "Bank of America app' and you will get results, Make your choice
Next, click on the "Install " button
Immediately the app will be downloaded into your account.

And afterward, you have to install it on your Android device.
When you follow these steps above, you will successfully download the bank mobile app.
Bank of America Application
Having the bank mobile app on your iPhone is just easy and simple. Here are a few steps to follow
On App Store on your iPhone device.
On the page, search for "Bank of America".
Check for the app in the list of search results displayed.
Next, click on the " Install " button.
Scroll down to the top right corner of the page.
The Apple ID Password screen will appear.
Key in your password and click on the "Ok" button.
Download the app and click on the icon to open it.
Scroll down and click on the login button.
The Bank of America app is very useful for bank clients. The app helps to enhance banking services and customers can view their account balances and transactions and other services.
Customers Service Of Bank of America
For more information and details, inquiries visit the website of the bank at www.bankofamerica.com and get the customer care phone number to speak with the bank representative.
Bank of America Customer Care
The Bank of America Customer Service Care Center will assist you in case of any issues while opening your account online.
More Related Content