What are the Key Factors of Financial Planning? We have things that we would all like to accomplish. And the first step towards achieving that is first off, building a plan. Unfortunately, a lot of us, we are yet to put together a plan for our finances.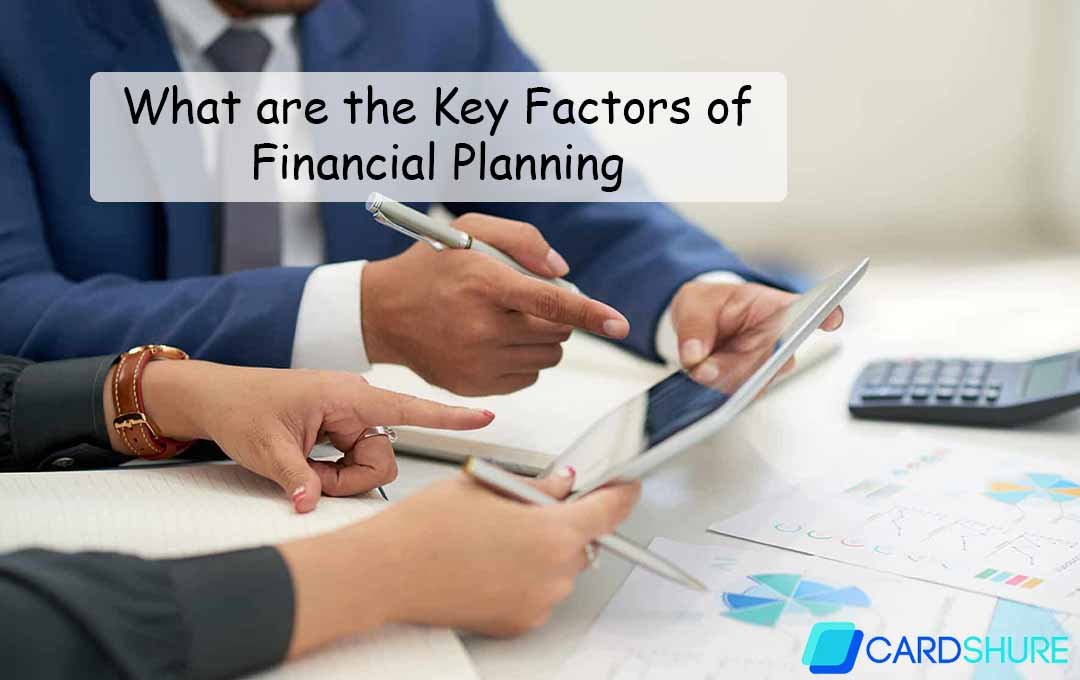 You do not need to make a complicated plan in other to have a financial plan. you can set one concrete financial goal and then make decisions to meet all those goals.
What is Personal Financial Planning
There isn't much definition of what Personal Financial planning is. Well first off, it means managing your money to cover expenses and save for the future. But aside from just defining it, it also is a topic that covers quite a really broad area.
We also can say it is a comprehensive plan projecting a lot of years into the future. It is not just for all those that have tons of money. A financial plan safeguards you against life's surprises. It also includes information about your income, savings, expenditures, debt, investment, and insurance.
What to Know Before Engaging in Financial Planning
There is no exact step to follow when writing a financial plan. you can choose to do it all by yourself, or you can consult a financial planner or investment advisor. But before you start, you would need to know where you are starting from. In other to do this, you would be required to calculate your net worth and figure out your cash flow situation.
Calculate Net worth
The process you need to follow in other to get your net worth calculation is simple. You take your assets and subtract your liabilities. Your assets include:
home or other properties
Money in the bank
car
Money invested in a 401(k) plan or other retirement accounts
Stocks, bonds, and other investments
valuable assets like jewelry or art
While your Liabilities include things like Mortgages, credit cards, student loans, personal loans, auto loans, and more. Once you know all your assets and liabilities, you can take an honest look at your financial situation. If your assets go beyond your liabilities, you may be in a good position to invest more for your future.
Determine Cash Flow
Also, you need to determine your cash flow, it measured just how much money you would like to bring in, and just how much you can spend and how much you can save.
First, you would need to estimate your monthly income. If you regularly get a paycheck, then this should be fairly easy for you to do. If your income is irregular, you can try figuring out an annual total and then divide the total by 12 in other to figure out a monthly average.
You can choose to try and figure out your expenses. This can be done by looking at your checking and credit card statements. Your expenses might include the following:
Fixed monthly expenses
Annual expenses
Other expenses
What are the Key Factors of Financial Planning
There are some major factors you need to put under consideration when trying to figure out financial planning. These factors are very vital when it comes to financial planning, and then include:
Setting Goals
Budgeting
Mitigating Risk
Building Wealth
And finally understanding how taxes affect retirement planning
These five steps have proven to be very vital to financial planners over the years, and you applying them to your life can really help a lot.
FAQ
What is the Main Purpose of Financial Planning?
Personal Financial Planning is simply arranging to spend, save, and invest money in other to live comfortably, have financial security, and achieve goals. Everybody has a different financial goal. Goals are the major thing that you would want to accomplish.
What are the Most Important Factors of Personal Financial planning?
Below are some factions of financial planning that you need to consider if you would be venturing into future planning.
Achieving Flexibility
Liquidity
Tax Minimization
The first step.
Things to consider
Why is financial planning important for Students?
Via your financial planning, you can obtain a much better financial understanding and set some reasonable financial goals. Doing this would help you make some wise decisions when it comes to financial matters.
What is the most Important Part of Financial Planning?
Saving and investing according to a financial plan instills a much greater sense of purpose in your journey for financial well-being and financial independence in the long term. One of the most important aspect of a great financial happens to be goal linkage with investments.
More Related Content