Bluebird Credit Card is issued by American Express. It is a prepaid card, those cuts fees, and offers banking and shopping features, that beat other competitors. With the Bluebird Card, you get the convenience of a prepaid account with banking features like direct deposit. Additionally, you get access to money-saving Amex offers, that otherwise are only available with credit cards.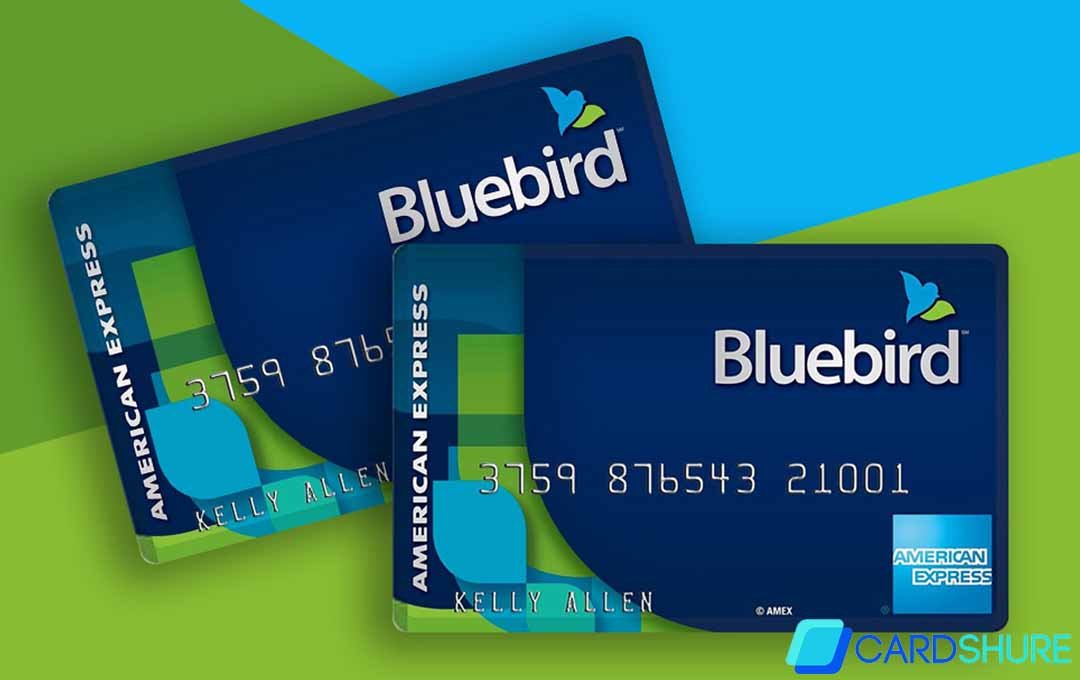 Bluebird Credit Card
The Bluebird Card is a top choice for managing finances. It charges no annual fee or monthly fees. It is a card, loaded with valuable perks and services from American Express. Bluebird Card can be used anywhere American Express is accepted.
Bluebird Credit Card Benefits
The Bluebird card comes with the following benefits:
Bluebird Card comes with no monthly or transaction fees, and other freeways, to add money to the card.
There's an extensive free ATM network.
It is a card, loaded with valuable perks and services from American Express.
Bluebird Card can be used anywhere American Express is accepted.
There are no fees to spend your money.
Enjoy Free withdrawals at MoneyPass ATMs.
Offers Check-writing and bill pay for free (you will pay for a set of checks.
Spend $0, to add cash at Wal-Mart registers.
Spend $0, to add money via a linked debit card.
$0 to add cash thru direct deposit.
Families can make use of one Bluebird account.
Revel customer service, which is available 24/7.
Cardholders enjoy emergency roadside assistance, purchase protection, shopping, and entertainment offers.
Gives you five freeways of checking your balance.
Take advantage of its Goal-oriented saving options.
With these amazing benefits, you are sure to get the most out of your card. for more details on the application, visit https://www.bluebird.com/prepaidaccount
Bluebird Card Application
To apply for, and get approved for Bluebird Card, applicants must note the following criteria;
Eligibility Requirements
The applicant must have a valid Social Security number.
An applicant must be at least 18 years of age.
Must reside in the United States.
Requirements for Bluebird Family Account
Applicants must be at least 13 years old.
Must reside in the United States.
No minimum balance requirements and no credit reviews are needed to join Bluebird.
How to Apply
There are 3 ways to get a Bluebird Card.
You can get the Bluebird Account Set Up Kit for $5, at a Walmart store close to you, begin using your Temporary Card immediately, then register at Bluebird.com. know this, for you to access the website, you need a VPN. That is to say without a VPN connection your access will be denied and you can't access the platform.
Get the card, by registering directly online at Bluebird.com.
The third option is to download the Bluebird Mobile App from the App Store or Google Play and register via the Bluebird Mobile App.
With all these steps you will be able to apply for this credit card freely no stress and time-wasting.
Bluebird Card Activation
To activate your newly acquired Bluebird Card, note the following;
Bluebird activation Kits are sold only at Walmart and on the Bluebird service.
Bluebird card can be activated online and will be ready to use as soon as it is activated.
To activate a Bluebird card, users are to create an account with a valid e-mail.
Online Activation
Scroll to Bluebird.com/activate.
Enter your Username and Password.
Tap on the "Continue" link to proceed further.
Once your card has been fully activated, you can use it for transactions.
Bluebird Card Login
To gain access to your credit card account;
Scroll to the Bluebird login.
Enter your Username and Password.
Tap on the "login" link, to gain access.
Knowing how to log into your account, makes accessing your online card account easy.
Bluebird Card Username/Password Recovery
To recover your username or password:
On the login page.
Tap on the "Forgot my username or password" link.
On the new page you are directed to, enter the following details; Card number (15 digits), and Card security code (4 digits).
Then, tap on the "Continue" link to proceed further.
After you successfully recover your password or username, you can easily access your card account.
Bluebird Card Bill Payment
To make bill payments using your card:
Sign in to your Bluebird account.
Tap on "Pay Bills", which is on the left of the screen.
Type in your payee information.
Choose payee.
Save payee information.
Key in the amount to pay, by tapping on the "Continue" link.
Submit payment, by tapping on the "Submit" link.
You can now make stress-free bill payments.
Bluebird Card Customer Service
To gain access to a customer care agent, call using the number listed on the card's website.
More Related Content