How to Choose the Best Health Insurance for Your Family. From having a better understanding of health plans to comparing out-of-pocket costs, here I would be giving you details on how to pick the best coverage.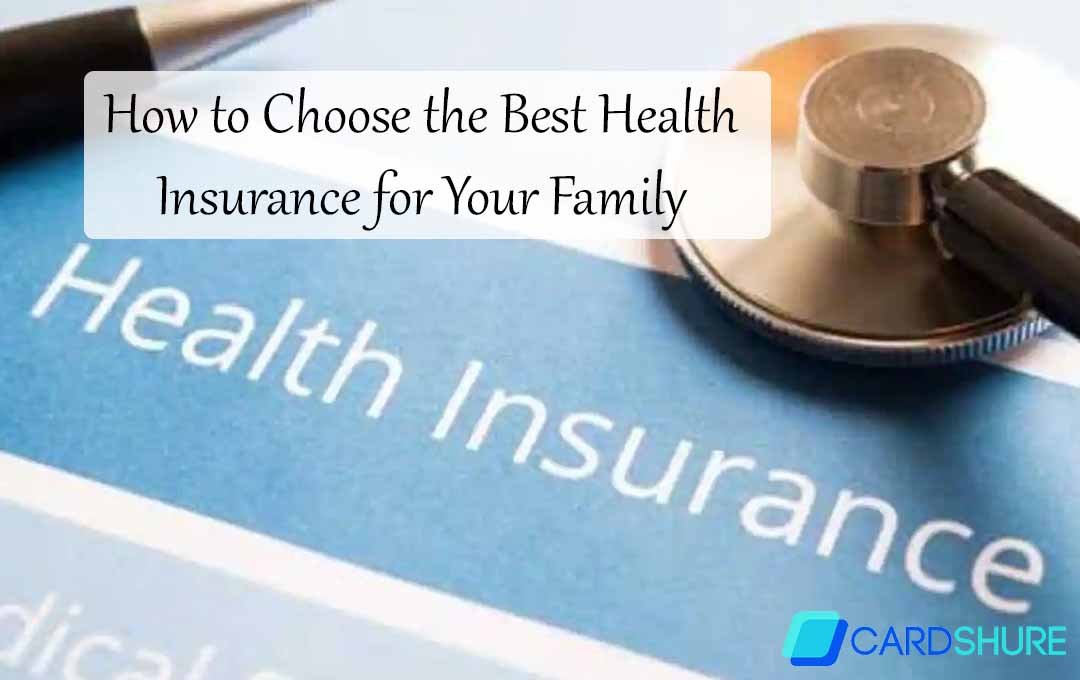 Basically, you have a limited amount of time to get the best health insurance plan for your family, but rushing to choose the wrong coverage can turn out to be costly. This article would offer you the guidance you need to get affordable health insurance, whether it is through a state or a federal marketplace or via an employer.
How much Healthcare Coverage do I really Need?
Seeing as health insurance premiums can turn out to be costly, you would want to get your hands on the sweet spot between sufficient coverage and over-insuring. This actually can turn out to be a bit of extra work when you are married, especially if you are with children. If your spouse and yourself have employer-provided health insurance, it is best you compare the benefits and premiums with your family's particular health history and needs in mind.
For couples that have children, it is worth you investigating to discern whether the most cost-effective option might be for each of their spouses to take their own employer-sponsored plan, it includes the children on the plan that seems to meet the needs of the family.
Why Choose a Health Insurance Plan
The rise in lifestyle diseases and their high treatment costs are the primary cause. It's possible to get sick, get hurt by accident, or have a medical emergency. The financial outflow is significant because a medical emergency cannot be postponed or ignored.
How to Choose the Best Health Insurance for Your Family
Below I have put together the steps involved in choosing the best health insurance for your family. These steps would really help you make the right choice.
Choose The Right Policy
There are many different kinds of health insurance plans, each of which covers a different thing. Therefore, the next step would be to select the right policy for your family.
Individual health plans
Plans for health insurance with a single sum insured and a single person covered. This is a reimbursement medical coverage plan, and that implies that the main expenses related to the hospitalization will be covered by the case.
Family floater plans
Health insurance plans that cover the whole family members under a single sum insured. The family floater plan offers coverage so that everyone can claim up to the entire sum insured.
Senior citizen plans
Plans for health insurance for people who are older than 60. As a senior-specific plan, this one typically provides coverage for outpatient department treatment (OPD), pre-existing disease coverage, and other benefits.
Disease-specific plans
Plans of health insurance that cover specific diseases and the complications that come with them, like dengue, heart problems, Covid-specific, and so on.
Critical illness plans
Plans for health insurance that pay a lump sum to the insured in the event of a critical illness like a heart attack, stroke, or cancer. These plans typically have fixed benefits, which means that regardless of how much you spend on treatment, if you develop a critical illness, you will receive the full amount.
Top-up and super top-up Plans
There are also health plans with a maximum deductible. Guarantees that go over the deductible are covered by these plans.
Opt for an Adequate Sum Insured
For you to be able to find the adequate sum insured for your health insurance plan, you would be required to locate the total numbers that need to be covered. So, you would be required to choose a sum insured that is sufficient to cover all the expected medical costs of all the members of the family.
Judging by the increasing medical costs and medical inflation, a high sum insured would be desired. However, a high sum that is insured would also result in a high premium. Based on that, if affordability turns out to be an issue, you can choose to opt for top-up or super top-up health insurance plans to enhance the coverage limit without a considerable premium outgo.
Similar to a supplementary health plan, a super top-up or top-up policy functions. There is a deductible breaking point in the strategy. On claims, no payment is made up to the deductible. However, if the excess claim exceeds the deductible, the super top-up or top-up plan will pay for it.
Be that as it may, while a very top-up plan considers the deductible in total, a top-up health care coverage plan considers the deductible for every single individual case.
Look for Comprehensive Coverage Benefits
Making sure that the arrangement offers vital inclusion benefits is the following stage in buying the best well-being plan for the family. Comprehensive coverage is essential for covering any and all potential medical expenses. When considering the coverage's benefits, you must also ensure that they meet your requirements.
For instance, a newlywed couple must select a health plan with maternity coverage. You can rest assured that the plan will cover the costs of giving birth if you have this coverage, easing any financial burden.
Check the Limits and Sub-Limits
Room lease is restricted in some health care coverage plans, particularly for those with lower total protection. If there is a sub-limit, the coverage as a whole is limited. If you choose a room with a rent that is higher than the allowed sub-limit, you would see a proportional reduction in your claim for inpatient care. Plans without sub-limits, on the other hand, typically cost more.
Opt for Coverage Riders
Health insurance plans usually allow optional coverage benefits. These benefits are usually referred to as riders and they are available at an extra premium. Riders are usually optional and can be chosen when you decide to purchase or renew your policy.
Check the Hospital Network of the Insurance Company
You won't have to pay out of pocket if you have health insurance to go to the hospital. The insurance company will pay for these expenses on your behalf. As a result, credit-only hospitalization is advantageous and liberating financially. However, you must be admitted to a hospital that is affiliated with the insurance company in order to qualify for the benefit.
Compare the Premiums
Plans for health insurance are offered by a lot of insurance companies. Premiums for health plans vary because each business has its own pricing policies.
More Related Content