Here I would be giving you tips on some Insurance Policies Everyone Should have. With time, insurance policies can in turn protect you from the hazards that plague normal life. And they include floods, fires cars,s and life-threatening illnesses. Most of these disasters cannot be stopped, but having a very good insurance policy can in turn get you financial coverage for these unexpected expenses.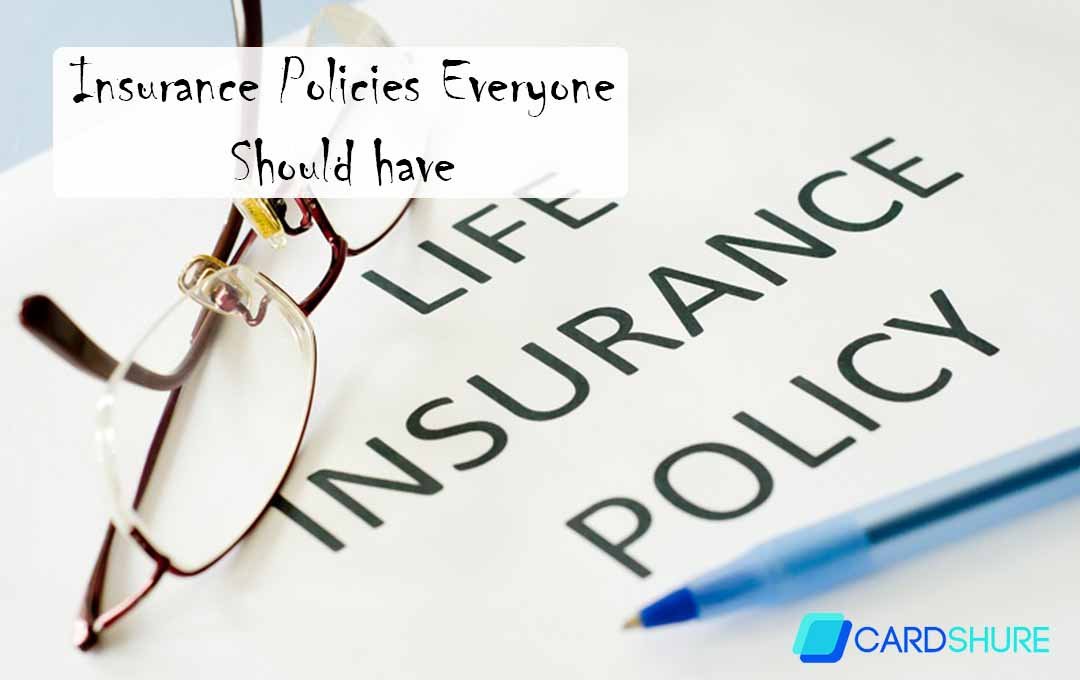 Keeping your most important assets safe is very important when it comes to creating a solid personal financial plan, and the right insurance policies would go a long way toward helping you safeguard your earning power and your possessions. Well, in this context, I would be giving you five policies that you should not do without.
Insurance Policies Everyone Should Have
Long-Term Disability Insurance
The term long-term disability has turned out to become very frightening that a lot of people tend to ignore it. While we are all focused on the fact that nothing would happen to us, relying on hope to keep our future earning power is not a very good idea. Instead, select a disability policy that offers more than enough coverage to enable you to enjoy your current lifestyle even if you are unable to keep on working.
Long-term disability offers a monetary benefit that equals the portion of the insured's salary for covered disabilities. Long-term disability typically begins when short-term disability ends. In other to get the benefits, the disability is expected to have occurred after the Policy's issuance and then, typically after a waiting period. Usually, medical information, often confirmed by a Physician is expected to be provided to the insurer for consideration.
Life Insurance
Life Insurance is there to protect the people that depend on you Financially. If your parents, spouse, children, or other loved ones are to Face hardship as a result of your death, Life insurance should be very high on your list of insurance policies.
Calculate how much you earn per year, and purchase a policy that would replace that income in the event of your untimely demise. This also factors in the cost of burial also, as the unexpected cost is a burden for a lot of families.
Health Insurance
Seeing as Medical care seems to be increasing in price as time goes on, gives you enough reason to know that heal insurance is very vital. Even a simple visit to the doctor could yield a huge price. More serious injuries that could lead to staying in the hospital could generate a bill that tops the price of a one-week stay at a luxury resort.
Injuries that need surgery can quickly rack up five-figure costs. Although the cost of health insurance is a financial burden for just about everyone, the potential cost of not having coverage is a lot higher.
Homeowner's Insurance
Replacing your home can turn out to be very expensive. Having the right Homeowner's insurance can make the process less difficult. When shopping for a Policy, look for one that covers the replacement of the structure and the contents, in addition to the cost of living somewhere else while your home is paired.
Have on your mind the cost of rebuilding does not need to carry the cost of the land seeing as you already own the land. Depending on the age of your home and the amenities that are in it, the cost to have it replaced could be more or less than the price that you paid for it.
In other, for you to get an accurate estimate, find out what local builders charge per square foot and then multiply that number by the amount of space that you would need to have it replaced. Have it at the back of your mind the cost to make the upgrade plus special features. Also, make sure that the policy covers the cost of any liability for injuries that might occur on your property.
Automobile Insurance
Some Level of automobile insurance is required by Law in a lot of places. Even if you are not required to be in possession of it, and you are driving an old clunker that has been paid off for a long time, automobile insurance turns out to be something that would help you skip.
If you get involved in an accident and someone gets injured or their property is damaged, you might have to face a lawsuit that might cost you a lot. Accidents happen fast and the result is usually tragic. Carrying no automobile insurance or purchasing only the minimum required coverage would save you only a little amount of money and it places everything else that you have at risk.
FAQ
What is an Umbrella Insurance Policy?
An Umbrella Policy is a liability insurance that offers additional coverage in excess of the Policyholder's current policy limits. Let's say the damages exceed the limits of a policyholder's property insurance, the umbrella policy would offer extra liability coverage, up to about limits. This type of insurance benefits those that have sizeable assets, which could be subject to seizure.
How Do You Cancel an Insurance Policy?
A Policyholder is expected to cancel an insurance Policy According to the cancellation provisions of their contract. Insurers usually allow policyholders to cancel via Phone; however, some require the request in writing.
Which Insurance Policies Are Needed?
A lot of experts have come to the conclusion that life, health, long-term disability, and auto insurance are the four types of insurance you are expected to have.