Top 40 New Month Inspirational Quotes. The beginning of a new month is always a great time to start fresh. And if you would need some words of inspiration to get yourself focus or motivated, then this article is here for you. Below we have gathered 40 of the best inspirational quotes to keep you on track.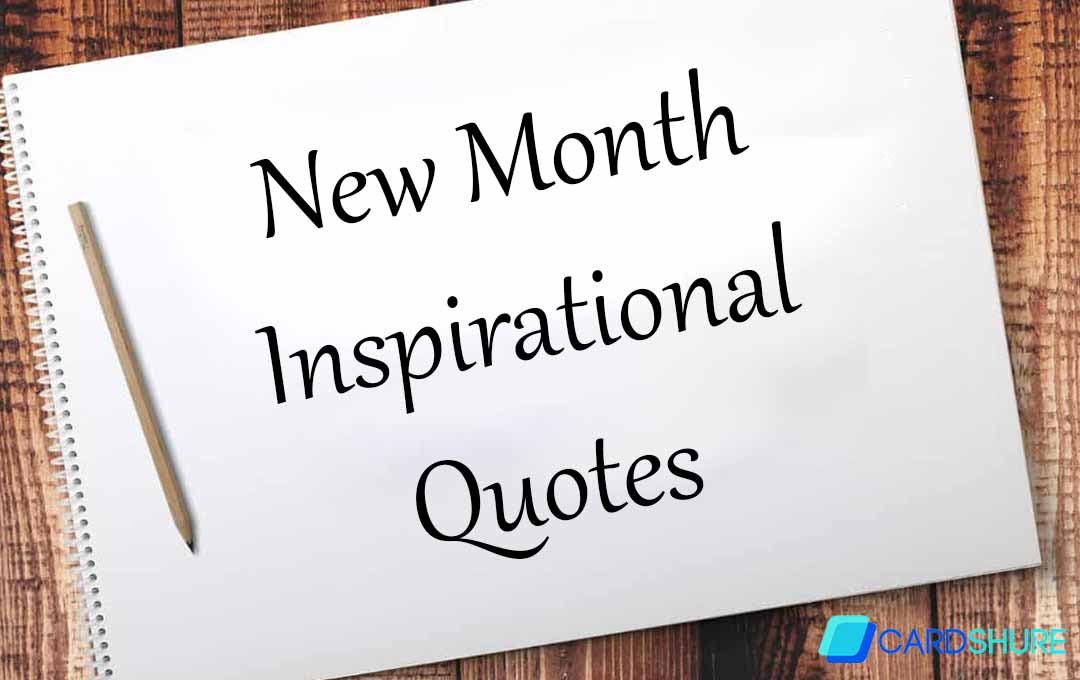 Sometimes, a New month usually comes with lots of struggles or recognition for hard work. Nevertheless, this depends mainly on how the world sees a fresh start. Well, here you would be getting some new month goals quotes, new month beginning quotes, happy new month messages, and more.
You can make use of these quotes as new months' wishes for your friends and family if you want. They are encouraging so feel free to make use of them.
Top 40 New Month Inspirational Quotes
Every day is a chance to begin again. Don't focus on the failures of yesterday, start today with positive thoughts and expectations.
The old has passed away…the new has come.
How different every hour is from the one before!
Every sunset is an opportunity to reset.
Cheers to a new month and another chance for us to get it right.
Just take it as a beautiful chance for you to rebuild yourself.
Asking is the beginning of receiving. Make sure you don't go to the ocean with a teaspoon.
And now let us welcome the new year, full of things that never were.
Every day is a new beginning because you can't turn the clock back.
Every moment is a fresh beginning.
You raze the old to raise the new.
January looks forward to the new year and back to the old year.
New month, new intentions, new goals, new love, new light, and new beginnings.
Celebrate endings—for they precede new beginnings.
Instead of letting your hardships and failures discourage or exhaust you, let them inspire you.
I wish you a beautiful new month from the first day of this month to the last day.
The object of a new month is not that we should have a new month…we should have a new soul.
Life stands before me like an eternal spring with new and brilliant clothes.
Everything magical happens between the months of June and August.
I thought no one would ever call spring bittersweet, even though it was an end to one season and a beginning for another in an endless spiral
New Month Motivational Quotes
"A new month is a new opportunity to start fresh and make the most of every moment."
"Each new month is a chance to set new goals, push yourself further, and achieve greater success."
"With each new month, comes the chance to take a step closer to your dreams."
"Don't wait for a new year to make a change, every new month is a chance to start anew."
"The beginning of a new month is the perfect time to reflect on your progress and make plans for the future."
"A new month is a blank canvas, paint it with beautiful colors and make it a masterpiece."
"Make this month the best one yet, by seizing every opportunity and taking on every challenge with courage."
"With a new month comes new possibilities and new opportunities to grow and learn."
"Start this new month with a positive attitude and a determination to make every day count."
"Each new month is a reminder that anything is possible if you set your mind to it.
"Embrace the start of a new month as a chance to be better than you were yesterday."
"This new month is a fresh start, a new beginning, and a chance to create the life you want."
"Make this new month count by setting clear goals, staying focused, and taking action every day."
"The start of a new month is the perfect time to renew your commitment to your dreams and goals."
"New month, new opportunities, new challenges, and new possibilities. Make the most of them all."
"The key to success is to never give up, and to keep pushing forward with each new month."
"Let this new month be a reminder that you are capable of achieving anything you set your mind to."
"This new month, choose to be grateful for what you have, and focus on what you can do to make things even better."
"Every new month is a chance to learn from the past, grow in the present, and create a better future."
"The start of a new month is the perfect time to take a deep breath, refocus your energy, and tackle your goals with renewed vigor."
More Related Content