Here are some Things to Consider Before Purchasing a Keyboard.  One of the most used parts of a computer is the Keyboard, making it very essential to have. If you happen to be shopping for a new keyboard, there are some feats you need to put under consideration, especially if you would like to move it between multiple devices.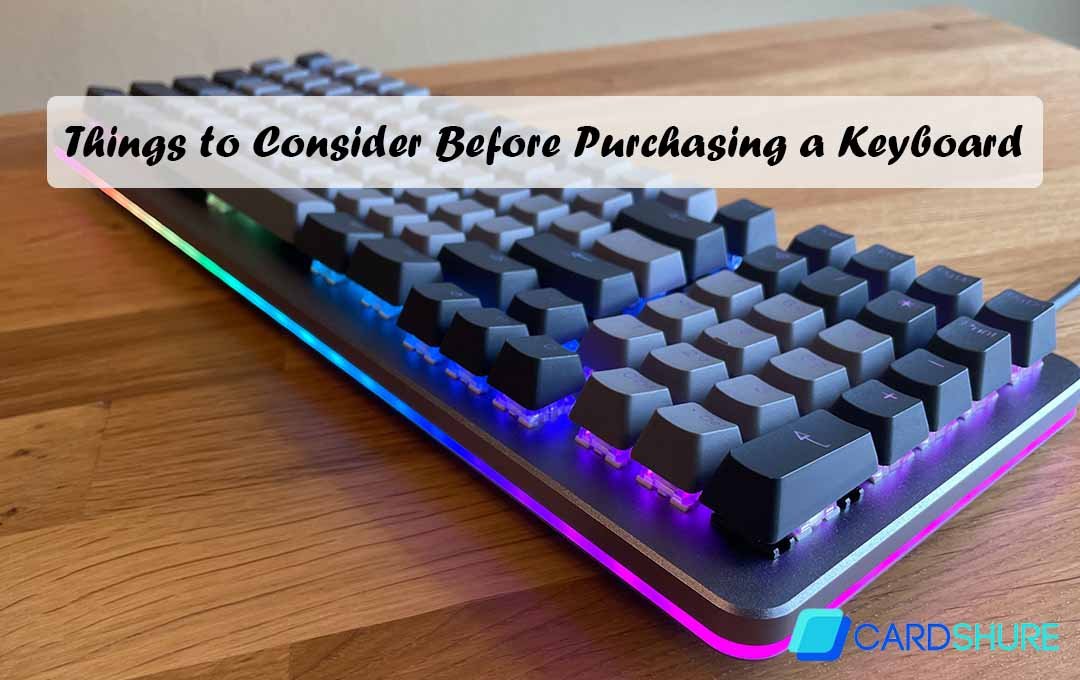 Things to Consider Before Purchasing a Keyboard
Currently, there are tons of keyboards to purchase, and most of them have their own special way of connecting and using them. Well, in this article, we have put together some guides that would help you decide which keyboard works perfectly for you. Below are some major details you need to consider before pushing to buy a keyboard.
Cost
Hotkeys and Media Keys
Keyboard Size
Ergonomics
Wired or Wireless?
How Much Should a Keyboard Cost?
If what you want is just something to type on, you should be able to get something nice for just $10. However, the more functionality you want your keyboard to carry, the more money you would have to spend. There are tons of available options, and you would need something that suits your perfectly.
Keyboard Variables
Backlit Keyboards
The backlit keyboard works the same as any other keyboard, except that they emit light from behind the keys. They are great and offer some usefulness. The Backlit keyboards tend to make the keys a lot easier to see, and some of them offer custom light settings that you can use to color-code different areas for several tasks.
Dvorak Keyboards
The Dvorak Keyboard carries a different setup and layout compared to the QWERTY keyboard. The Dvorak keyboard was built to increase typing speed and reduce motion and strain on your hands, and it design lends itself to a straightforward, faster motion.
Flexible Keyboards
If you like, you can choose to roll up and carry the keyboard around. These keyboards were built out of silicone, so they are quite easier to maintain and clean, they are durable, can usually withstand minor spills with no issues, and are portable.
Mechanical Keyboards
A lot of the mechanical keyboards are built to look like and feel like the classic typewriter. These keyboards often produce a tactical click when you type.
Numeric Keyboard
These tiny add-on keyboards look more like a calculator without a display. The aim of this keyboard is to add a numeric pad to your setup if your keyboard does not carry one.
Magic Keyboards
This is apple's special branded hardware, the Magic Keyboards, which works best with Mac computers, both mechanically and aesthetically. Aside from its sleek look, the magic keyboard is also a wireless Keyboard and it is rechargeable. The Keyboard allows for a physical USB-C to lightning cable connection.
Membrane Keyboards
The membrane keyboards are usually not that expensive compared to their materials, and the way they are built makes them quiet keyboards. The individual keys are pressure sensitive, and they carry no space in between.
Who Needs a keyboard?
There are tons of reasons now why people choose to buy keyboards. The keyboard a gamer uses is not something an office worker would want to buy. So, before you purchase your keyboard you need to know what the keyboard offers.
Gamers
Games typically make use of integrated LCDs, Programmable keys, backlighting, and changeable number pads to increase their benefits and enhance the gaming experience. If you are a gamer, look for keyboards labeled as gaming keyboards. With a gaming keyboard, expect to pay more.
Office Worker or Home Office Work
If you do data entry or you are publishing, you spend hours focused on your computer. The best keyboard for you to get for yourself is an ergonomic keyboard.
Traveler
For whatever reason you choose, you would like to throw a keyboard in your carry-on when you travel. A lot of people get so accustomed to macros that they cannot ever bear to work in an office without making use of them. Well, if you are one of them, you are lucky because they make truncated key counts just for you.
These keyboards are typically billed as lightweight, and they are sometimes even foldable. The keyboard does not carry many media keys on them, although some of them come with customizable F keys or built-in touchpads. Even though these keyboards are smaller, they actually cost more than the standard wired keyboards.
FAQ
How do I clean My Keyboard?
You are expected to clean your keyboard once or twice a month, using a keyboard wipe. A can of compressed air or soft and damp microfiber cloth would work just fine.
How Do I Use my Keyboard to take a Screenshot?
You can make use of your keyboard to take a screenshot on your PC by pressing the "windows + Prtscn." On your mac, the screenshot keyboard command is Shitf+Command +3.
What are the features of a good keyboard?
The best keyboards would have weighted and graded keys that would mimic the feel of a real piano and often would have speakers built right into the keyboard. Digital pianos don't often have the sound range of synthesizers – they are built for serious practice rather than musical experimentation.
More Related Content