Does Kuda Bank Have ATM Cards? This is the question a lot of New Kuda bank account owners ask. Well, the answer is yes. At the moment, the Kuda debit card has become a force to reckon with at the moment in Nigeria. The card comes with a lot of advantages that other banks do not offer.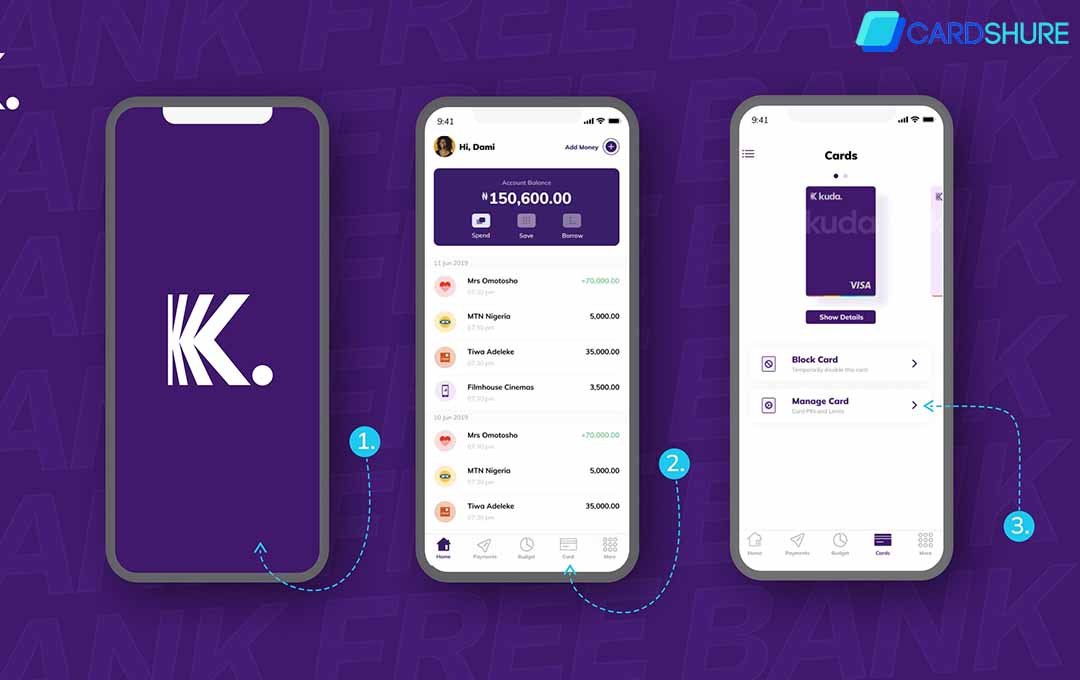 Kuda Bank happens to be one of the many tech companies that have distorted the process flow in the country's financial atmosphere. At the moment, they are growing really fast and are coming in with new offers for their customers and account holders.
Does Kuda Bank Have ATM Cards
With this, Kuda has worked on a naira debit card that enables its customers to make payments, transfer funds, and more both online and offline. Last year, Kuda Bank partnered with Visa to start issuing Visa Cards to all of its customers.
So, at the moment, you should be able to request for a physical or virtual online card. In this context, we will be giving you all the details you need on how to request your very own Kuda debit card on the app and how to have it delivered to you.
What You Need to Request for a Kuda Card Online
Before you make the decision to order a card online, there are several things you would need to attend to first. They are simple things you need to get a card from your local bank so you do not need to worry. They include:
Minimum of N1000 in your account: this only needs to be in your account to be sure the account is currently in use.
Make sure the phone number and address you enter will be available for at least three weeks after applying. The dispatch rider would only be able to contact you using those addresses.
What Makes Kuda Card Special
Unlike a lot of bank cards today, there are certain special features you get to enjoy when making use of a Kuda Bank card. They include:
You are able to complete payments online and offline using the Kuda Bank Card
No maintenance fee is required
cash withdrawals at the ATMs are totally free
How to Request a Kuda Visa Debit Card
Below I have put together the steps required to request a Kuda Visa Debit card. The steps include:
launch the Kuda App and then tap on "Cards" at the bottom of the page
you can choose to get a virtual card or a physical card. Tap on the "get a physical card"
then create a 4-digit card PIN that you can use to make withdrawals at anytime
then confirm that you are authorizing the card-issuing fee
after that, enter your delivery details and click on "Next" at the top of your screen
you should have your card delivered to you in at least two weeks
once your order is received, you can track the status of the card at intervals. Just click on the cards section to track your card
and with that, you should have your card delivered to you.
How to Activate a Kuda debit card?
Once you have received the card, the next thing to do is to activate the card and then you can start making use of it for your daily transactions.
Follow the steps outlined below to activate your card:
launch the Kuda app
then login using your username and password
tap on cards
select "Activate card," enter the number of your card in the column required, and click on the "Next" button.
With this, your card would be activated and you can start making use of it for your transactions.
FAQs
How long does it take to get a Kuda card?
Having finished your card application and gotten an application successful message, your card ought to arrive/be prepared within the following 14 days.
Kuda Bank virtual dollar card
Kuda Bank offers two kinds of cards; virtual and physical cards. Be that as it may, these two are payment cards. However, have a slight contrast in their usefulness.
The Kuda virtual card is utilized for online payments and can be gotten to through your Kuda account while the actual card is utilized for offline payments.
Kuda card limit
For one POS payment carried out with your card, there's a N500k limit, as well as a withdrawal limit of N30k at once. Kuda neither charges an expense for utilizing its cards nor a support expense for the card like traditional banks in Nigeria.
More Related Content